10. Jackie Chan


"I had to do anything I could to make a living 31 years ago, but I don't think it's a big deal, even Marlon Brando used to be exposed in his movies," said Chan after it was revealed he starred in a Hong Kong skin flick called All in the Family.
9. Spalding Gray
To people who read The New Yorker, Gray was best known for his post-modern, hyper intellectual monologues (and films of same), like Swimming to Cambodia. (We knew him as a smarty-pants Garrison Keillor type that made our college professors rub themselves against their desks with their eyes closed, quietly singing "When Doves Cry.")
8. Cameron Diaz
Naturally they showed up online soon after anyway. Because the Internet is as shameless as it is awesome.
7. Sylvester Stallone
Should you manage to be lucky enough to find a copy, you'll learn there's no false advertising in the title, as "Stud" belt-whips "Kitty" and services three of her friends at, sure enough, "a party." Adrian is gonna be SO pissed.
6. Arnold Schwarzenegger
There are plenty of unsubstantiated rumors floating around that Arnie went gay for pay in some early films, but he can't deny posing nude for controversial photographer and alleged "boy-loving pervert" Robert Mapplethorpe in the mid-'70s. (He also posed butt-ass-nekkid for gay magazine After Dark.)
5. Dustin Diamond
He's since capitalized on the career shift as despicably as possible, appearing at porn conventions and trying to push a line of adult products modeled after plaster molds of his man-parts. We can't think of a funny capper for that. Seriously, God save us all.
4. Jaimee Foxworth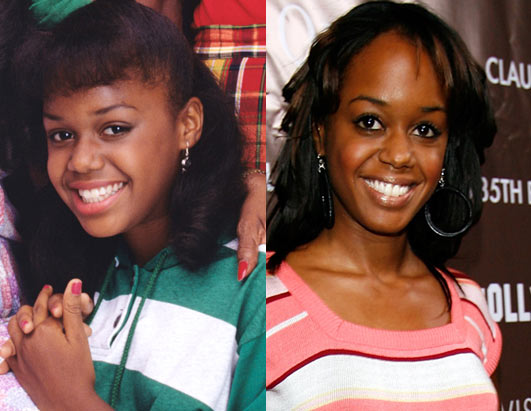 Best known (and we use that term VERY loosely) as youngest daughter Judy Winslow on the TV show Family Matters, poor, poor Jaimee Foxworth was written out of the show without explanation, presumably to make more room for the subtle, nuanced comic stylings of Steve Urkel. (In one scene, he might say "Cheese" in an annoying voice! In another, he'll simply fall face-first into Carl's lap! You never know-he's that versatile!)
4. Joanie Laurer
Ever since her WWE star faded, Joanie Laurer's mounted an exhaustive ongoing campaign to prove to everyone that she has an honest-to-goodness, totally for-reals vagina, evidently because nobody believes her for a second. Laurer followed up two Playboy spreads with the 2004 video extravaganza One Night in China (ugh), wherein her alleged lady parts are repeatedly assailed by fellow pro wrestler and alleged man X-Pac.
3. Colin Farrell
Early last year Colin Farrell attempted to block the distribution of a 13-minute sex tape he made with ex-girlfriend and Playboy Playmate Nicole Narain.
2. Jane Fonda
According to a former editor of Hustler magazine, in the early '90s Larry Flynt unsuccessfully attempted to purchase a video in which Jane Fonda (48 at the time), husband Ted Turner and an unidentified brunette share a queasily intimate moment of graphic, horrifying.
1. Tom Sizemore
We're surprised Tom Sizemore managed find time in his busy schedule of crystal meth busts and Heidi Fleiss-punching to even make a gross po#no, but unfortunately for po#nography enthusiasts everywhere, he did just that.
Posted by www.cracked.com